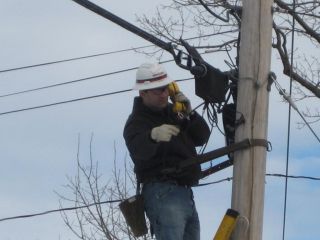 Over 30 Western Mass towns have no broadband access, according to the Mass Broadband Institute. This is unacceptable. I will work with the state's Western Mass delegation to bring us "up to high speed" with the Eastern part of the state.

As a career electrical worker in the telecom industry, I know that the phone and telecom companies are turning massive profits while laying off workers. The state needs to continue to regulate this industry whose lobbyists have been running amok in the State House.

Massachusetts has recently re-applied for a federal stimulus application for $100 million to bring high-speed internet to Western Massachusetts. If obtained before I take office, I will work on its implementation. If not, I will work towards state legislation and/or regional cooperation that will deliver the same services in the long-run.

I would support allocating such funding where it will be most effective, whether to the proposed municipally-owned cooperative, to private providers, or to public/private partnerships. I will ensure that the receiving parties consult with the I.B.E.W. and C.W.A., who already represent thousands of telecom workers in the Commonwealth, to keep workers employed.  I will work to prevent the major providers from selling off their Massachusetts operations like they did in Maine, New Hampshire, and Vermont—leaving workers and consumers high and dry.
Read more on…